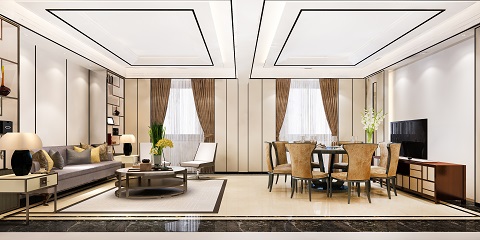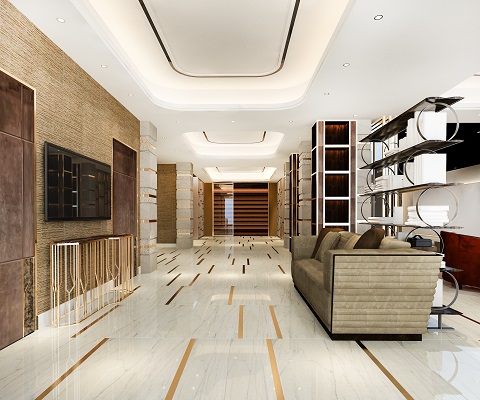 A false ceiling, or in other words, a dropped ceiling, helps to transform your interior space. In other words, it's an alternate ceiling that hides the original. One can also call them a suspended ceiling, T-bar ceiling, or grid ceiling. False ceilings add an aesthetic sense to domestic and marketable spaces and are suitable for thermal control and sound immersion. Plaster of Paris is a common choice for false ceilings because you can easily mold it into colorful shapes and designs. Still, our gypsum board ceiling is also something interior designers often suggest to customers because of its popularity.
Types of False Ceilings
Plaster Of Paris (POP) Ceilings
Plaster of Paris is the most popular material used in a variety of business as well as domestic roofing applications. Plaster of Paris is the cheapest of all the false ceiling accessories. It's available in grease paint form, which you can turn into a paste according to your design. Plaster of Paris is combined with water and applied to a fiberboard or wood base, which suspends it to form a false ceiling.
Gypsum False Ceilings
The substance that is most frequently used to create artificial ceilings is gypsum. Gypsum has fire-resistant properties, which makes it ideal for false ceilings. Also, its sound absorption qualities are perfect for false workplace ceilings. Gypsum board has a lot of benefits, and you can always go right with false gypsum ceilings. Our gypsum ceilings can also create that aesthetic look for your home and offices just how you want them to be.
Rustic False Ceilings
Rustic false ceilings have natural patterns and textures that can please the eye. Rustic tops come from plywood strips that have been nailed or fused. Rustic panels come as hollow blocks, panels, or boards. Because the plywood ceiling has separating parcels, it helps in places with cold climates. Wood is an excellent material to work with. Rustic tops are easy to install with just screws and nails. These ceilings are long-lasting but prone to termite damage and screwing.
Reasons Why Gypsum Is the Perfect Option
Resistant to Cracking
Cement suffers losses and is prone to cracking. It requires curing to avoid cracks, which is not necessary for gypsum. Cement plaster might crack despite the curing process. Gypsum has compressive strength and also provides tensile strength and, thus, can repel a pulling force and contraction. Gypsum boards are soft, not brittle, and therefore not likely to crack. Gypsum doesn't underpin in wet conditions as well as wood, so it resists damage due to seepage.
Superior Thermal Absorption
Gypsum provides thermal absorption and can help save energy. It'll help keep apartments cool, and air conditioning will become more effective. Also, if the room is heated, it'll trap the heat and lead to energy savings. Further, since a false ceiling will trap air, the air is an excellent insulator, and better absorption means lower cooling and heating needs. This can result in efficient energy savings, particularly in regions with frequent severe temperatures.
Fire Resistance
People used wood and cork for false ceilings, but their disadvantage is that they offer no protection in the event of a fire. However, gypsum boards are also further treated to be especially fire-resistant, similar to ours, which we minister to be both fire- and humidity-resistant.
Rust
Gypsum prevents rusting and prolongs the life of sword supports bedded in it. Any electrical fittings or pipes in gypsum plaster will stay intact and are safe to use with any metallic support. Most gypsum boards have a humidity immersion of only 5%; similarly, low water attention will ensure that the essence does not erode.
Conclusion
Gypsum boards will continue to be used in construction since the gypsum board price in Uganda is low, and false ceilings will continue to be used in the design. False ceilings aren't just beautiful, they also give the room thermal and aural absorption. With a custom-designed gypsum ceiling, you can distinguish your space while trying to save money on cooling and heating costs. It can be incredibly transformative if you have high-walled apartments that could use a new light source. The false ceiling will also cut the echoes, occasionally affecting a high-walled room.